on
November 26, 2009
at
2:29 am
The Freebies
At the age of 41 and 11 months, I went to my first ever comic convention. Thought Bubble was being held in Leeds (where I live) and I couldn't pass up the chance of meeting some of the webcomic artists who I follow on Twitter. I decided to bring my kids with me and they even agreed with my suggestion of dressing up for the day. Initially my daughter Niamh picked out her fluffy tiger costume and I was a bit worried that people might think that I was grooming her to be a furry. Thankfully she had a change of heart and went for the lizard ensemble, whilst Fergal donned his trusty Spiderman outfit. I thought it best to get there early, as the kids' enthusiasm would not last long in a busy, noisy hall and when I saw the enormous queue that had formed shortly after opening, I was thankful for having the sense to prebook tickets. As the kids were in costume, they got a bumper bag of free comics as we went in. I'm not sure that they're ready for Wolverine and Captain America Reborn just yet, but they should enjoy the Indiana Jones one.
As we wandered around the various stalls, I had to balance numerous requests for toys and pictures whilst I attempted to chat to some of the artists who were there. The first name I recognised was Daniel Merlin Goodbrey from E-merl. He is, of course, better known for writing other comics, such as Necessary Monsters, but it's for the very dry and droll E-merl that I was familiar with him and I helped myself to a copy of All Knowledge is Strange. After a brief chat it was on to a stall with Adam Calwell of The Everyday, Marc Ellerby of Ellerbisms and Chloe Noonan and on a table beside them was John Allison of Bad Machinery.
Adam Caldwell sketches the kids
Adam was kind enough to do a wonderful sketch of all three of the children that were with me (Niamh had brought her best friend Ludo) and the reasonable price he gave me on it (three sketches for the price of one effectively) meant that I could get the first collection of The Everyday, along with the first Ellerbisms and Ghosts, a Scary-Go-Round story from John Allison. I was able to have a quick chat with John and he had actually heard of DJ Bogtrotter (better yet, he even said a couple of nice things about it). But I couldn't stop for long with the kids dragging me off to gawk at some more people in strange costumes or to ask me yet again if I willing to part with £74 for the really big Spiderman model.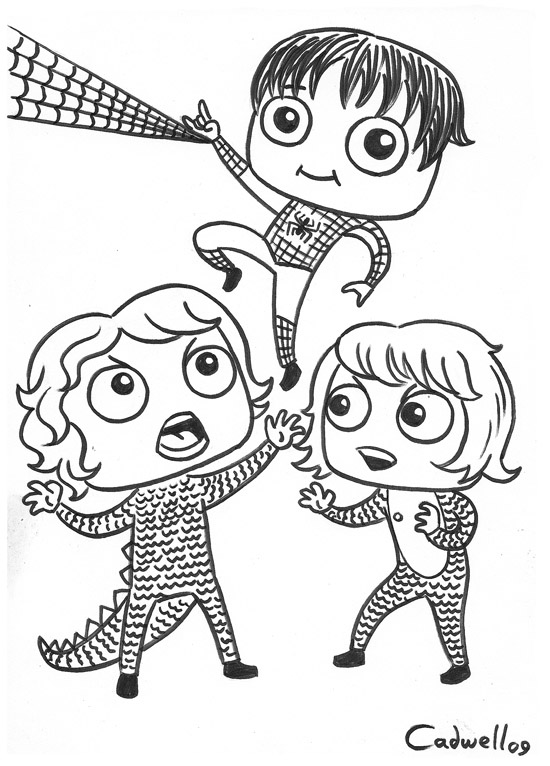 John Allison of Bad Machinery
Next I managed a brief hello with Anjar Sarkar of Moronoid (my friend Marcus Daley wrote one of the stories for their first issue) and the final webcomic stall I visited was Philippa Rice's charming My Cardboard Life. As usual, with kids pulling at my shirt, I wasn't able to talk for as long I would have liked with these talented artists, but it was great to actually meet up with some of the people I chatted to on Twitter (and some people think the internet is killing real communication). And I'm looking forward to settling down with my haul when I get a bit of time to myself.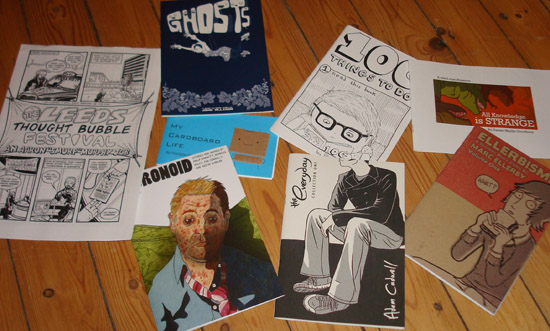 Gary Erskine's quick Batman sketch
I had a great day and it was lovely introducing my kids to all this exciting art. However it was frustrating that I wasn't able to have a proper chat with anyone. But when people like Gary Erskine (of Dan Dare) do a free sketch for your son and daughter, just because they like how they got dressed up, then it doesn't seem so bad. All the stall holders were very enthusiastic and friendly with the kids and made sure they didn't get to see anything they shouldn't (there was a quite a bit of mature content on display).
And finally, when you see how enthusiastic it makes them to join in, then it definitely seems like a good idea to bring the kids along.